Residential Property Management Services

Wollongong, NSW
MMJ Real Estate Wollongong have a large, professional property management team who have been successfully leasing and managing property for 60 years.
We believe in helping you achieve your property investment goals faster by providing you with the maximum return on your investment and creating an experience that gives you confidence and peace of mind as a landlord.

How much can I rent my property for?
We understand that landlords want maximum rental returns and, most importantly, peace of mind. They want to know that their property is being well looked-after and maintained, and that they have good tenants, who have been thoroughly screened and are appropriately managed.

How can we help you?
Rental Appraisal
Finding a tenant for your property
Managing your rental investment
Asset Management Services
What our clients say about us.
"10 out of 10 for property management... my unit was vacant for 11 weeks with 'another agent'- took MMJ less then a week to rent it out! So great to deal with and you're informed the entire way".
"The team are very knowledgeable and professional. I would have no hesitation in listing with them in the future."
How much rent can you get for your property?
Tell us a little bit about your property and we'll provide you with a full rental property assessment including: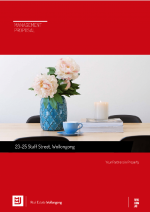 Other comparable properties and what they rent for
Current market conditions and how they affect your property
A property asset & facilities assessment