'New Ambience' is a mixed use development, the first of its kind in the Fairy Meadow CBD. In its first two weeks 44% of the residential apartments were snapped up and exchanged. The balance of the units were all sold in the following months creating new price highs for the area in a flat market.
The residential sales were so successful that Australia Property Investor magazine listed Fairy Meadow units as the third biggest growth area in NSW for 2011. By using the MMJ Umbrella of Services the developers were able to minimise costs, eliminate wasted time by using a number of different agencies and also maximise returns. Ambience revitalised the Fairy Meadow town centre and started a growth phase for the sleepy regional town centre.
---
Product Mix
34 Apartments1,600 sqm Commercial Offices4,700 sqm Retail Space
---
The Team
Developer > Agency > MMJ Project Marketing, WollongongArchitect > Builder > Piruse Constructions
---
MMJ Engagement
Town Planning
Project MarketingResidential SalesCommercial SalesCommercial LeasingCommercial ManagementMarketing
Valuation
---
Insights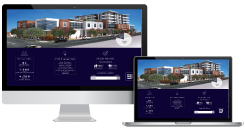 // Download full project insights.