MMJ Wollongong offers more real estate services under the one roof than any other agency in the Illawarra. Providing unparalleled local knowledge and decades of experience our unique blend of experts provide a high quality full agency service including sales, leasing, management, valuation, project marketing and town planning.
The MMJ Wollongong team are strong participants in the community, with the association and sponsorship of many community and charity events. Centrally located in Wollongong CBD our well respected team are easily accessible.
MMJ Wollongong have an unwavering dedication to achieve consistently outstanding results, which are constantly recognised and awarded by the industry and their community.
MMJ Wollongong is proud to announce our recent success as a finalist for the National Commercial Agency of the Year in the 18th REIA Awards for Excellence. This recognition comes after winning the REINSW Commercial Agency (Large) Award in September. The REIA Awards for Excellence annually honour the top achievements of real estate agents and agencies across Australia. The Commercial Agency of the Year award is highly coveted by agencies nationwide, making this recognition an excellent achievement for MMJ Wollongong.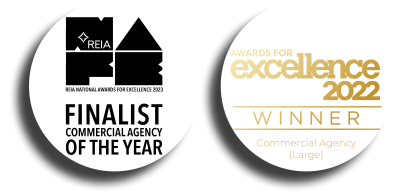 Ground Floor, 6-8 Regent Street, Wollongong NSW 2500