Have Business Sales Conditions Returned To Normal?
We would even go as far as to say better than normal. Back in November last year we noticed a considerable uptick in business owners looking for assistance to prepare their business for sale and this has continued through the first few months of 2022. Fortunately, buyer enquiries have risen to record levels to match these new business listings, creating the most buoyant market for business sale transactions we've experienced for some time.
A highlight has been the diversity in new listings, firstly in the variety of industries represented. Hospitality and retail businesses are as prominent as ever, but we have also had some unique listings in environmental manufacturing, all sorts of service businesses from pet care to appliance repairs, health and wellness and commercial waste and recycling businesses. It's an exciting time to be out and about meeting these business owners and helping them prepare for a successful sale.
Speaking of being "out and about" there's also been plenty of geographic diversity in the listings, with plenty of activity in the Shoalhaven especially in Berry and around Jervis Bay. We've also had new listings in the Southern Highlands and are increasingly working with business owners in Southern Sydney – keep an eye out for new listings there in coming weeks.
Business Buyers in 2022
We've definitely seen an increase in enquiries from both Sydney and Canberra, and whilst some of these enquiries are in an early stage of investigation there are others who are ready to invest – in fact 4 of our last 6 business sales have been made to Sydney buyers.

The most recent one would be the Wollongong Kitchen Installation business which recently sold to a young couple from South West Sydney. This was a really satisfying example of business owners moving toward a well-deserved retirement, coming to us for advice on how to prepare the business to sell – and then implementing the changes before we listed the business. The result was a sale price right in the range they were hoping for, whilst at the same time providing a potential Return On Investment to the owner operator buyer of close to 50% p.a.

Another business we sold to a South West Sydney buyer was a Wollongong commercial and domestic plumbing business which had been operating for over 50 years. Once again, this was a case of a business owner preparing for retirement and looking for an exit that offered continuity for his team and his customers but also recognised his contribution in creating the business reputation. We achieved this result by finding an owner operator buyer who was able to see the opportunities for growth in the region and was satisfied with an ROI based on current earnings of 42%.
A busy blind and awning installation business that MMJ sold successfully last month had an exceptional ROI for an owner operator – well over 100%, and was sold to a first time proprietor from Inner Sydney. The business had shown very strong growth in recent years and had developed valuable relationships with local builders.



We definitely receive a lot of enquiries from Sydney for the retail businesses we have listed, and we found a buyer for a Wollongong CBD newsagency from North West Sydney. This was a well presented business which was a factor in the high number of enquiries – it was only on the market for 53 days and had 53 enquiries. The successful buyer saw enough upside in the business with all the new apartments in the CBD and the buyer was happy with an owner operator ROI of 64%.
Another larger business we successfully sold to a North West Sydney buyer was a supermarket near Nowra. This sale included the freehold purchase of the property, and with the business run under management the buyer was looking at this as an investment. This listing received over 150 enquiries, and the agreed price for the business offered the buyer an investor ROI just under 60%.

Potential buyers looking for businesses run under management are very active at the moment – not just in supermarkets but also manufacturing and services.
These buyers often have similar criteria, they are looking for businesses with physical assets that can be borrowed against, and cashflow which will enable loans to be paid back in 2-4 years.
So, they are looking for a return on investment of 25-50%. The % returns we have been talking about are higher than other investment classes as you can see in the chart below. Whilst this is due to increased risk in business buying it does offer savvy business investors and owner operators the chance of achieving substantial financial benefits.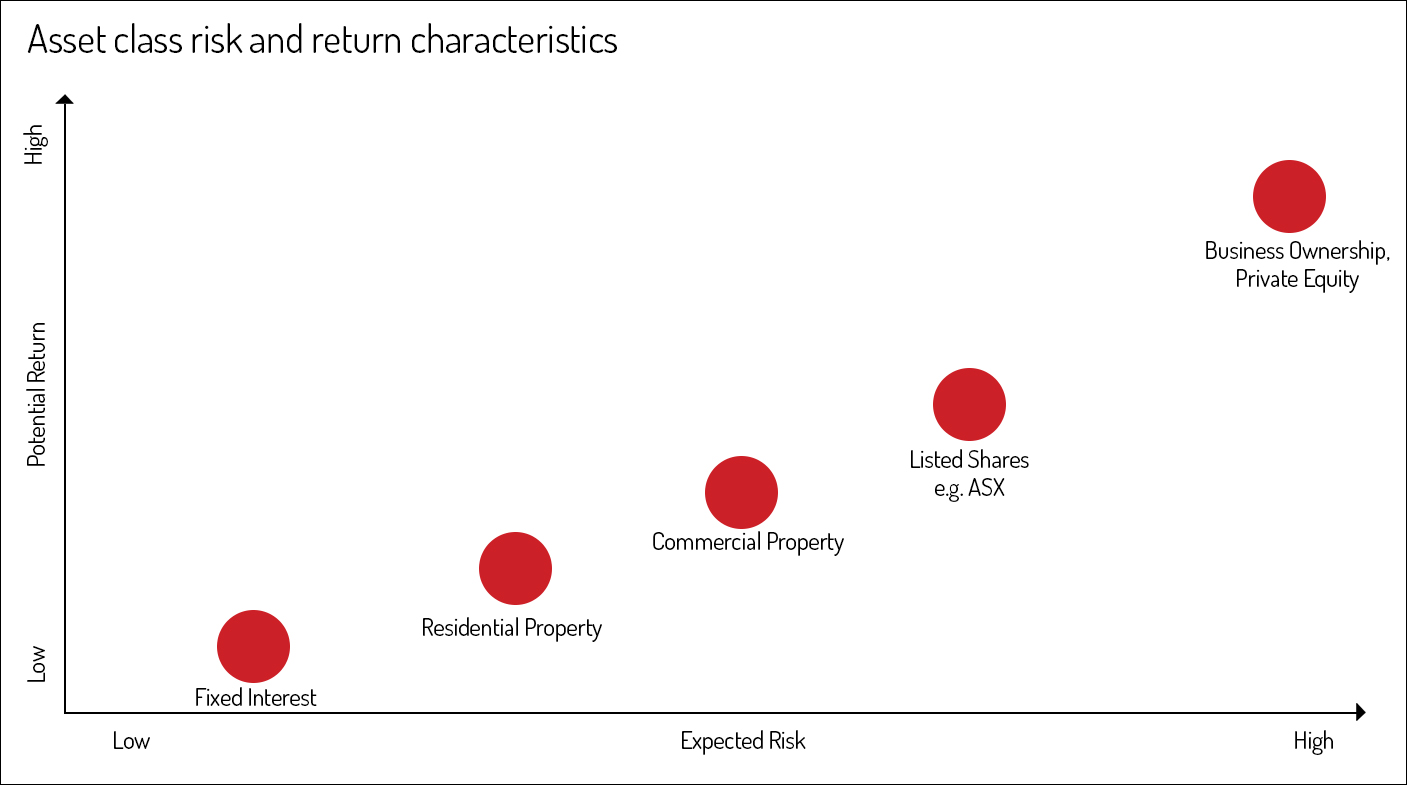 What's ahead in the next few months?
We anticipate continued high levels of business listings across industries and locations. There is still a backlog of business owners approaching retirement who may have delayed putting their business on the market during the Covid years, but with increasing stability are preparing to exit.
With the returns on offer set to remain high there is no reason to expect buyer enquiry levels to drop. With a higher number of businesses for sale it does become even more important to ensure a marketing campaign is well planned to attract the right buyers to a business, and that the price of the business is set within a fair market range. It's more important than ever to have your financial information properly prepared and showing future maintainable earnings for a potential buyer.
The MMJ Business Sales and Acquisitions team can help business owners establish a fair market price with a customised business appraisal – call us for an informal chat on 4229 5555 or email business@mmj.com.au.