Australia's booming property market has reached record highs in the face of extended lockdowns and growing affordability constraints, resulting in the strongest annual growth in more than 30 years.
Property values climbed more than 20 per cent over the past year nationally, marking the fastest annual growth seen since 1989, the latest CoreLogic National Home Value Index, released Friday, shows, with Sydney up 23.6 per cent and Melbourne up 15 per cent.
However, the pace of monthly price growth continued to slow, with property values rising 1.5 per cent in September to a national median of $674,848 – the lowest rise since January this year, with growth peaking in March at 2.8 per cent.
Home values still climbed in every capital city, reaching record highs in most. Hobart led the charge with a price hike of 2.3 per cent, followed by Canberra (2 per cent) – despite a ban on in-person inspections for much of the month – and Sydney (1.9 per cent). Even in Melbourne, where inspections were also off the cards for part of the month, values rose 0.8 per cent.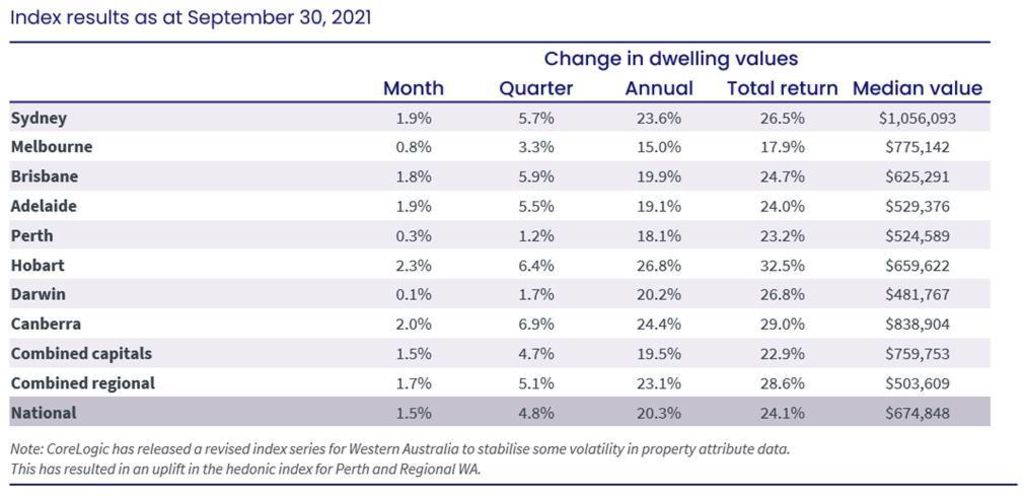 Read the full article: https://www.domain.com.au/